RECEPTION OF SUBMARINE COMMUNICATION SYSTEMS
Signals directed to atomic submarines in immersion. USA and Russia transmit in the ELF band generating a slow binary code. Frequencies are 76 Hz for the U.S. system and 82 Hz in the Russian system; the E.R.P. (Effective Radiated Power) is small, probably a few Watts, but signals are receivable around the world. This special kind of reception requires low-pass filters to avoid overloading the input with spherics. All spectrograms in this section are received with the Marconi T antenna and horizontal loop (2100 sq.m). See details in STATIONS, ITU LICENCES AND SERVICES BELOW 22 kHz section, at "76 Hz".
---
160999-2022



Vertical electric field and horizontal electric field. In vertical polarization the Schumann resonances are visible. At the same time the horizontal field shows the unidentified signals at 26 and 74 Hz (see "below 150 Hz" section) and a weak 76 Hz tone from military U.S. system (I presume). Observe that different polarizations give completely different signals. Selected areas in the highest part of right spectrogram are analyzed in next image.

160999-2022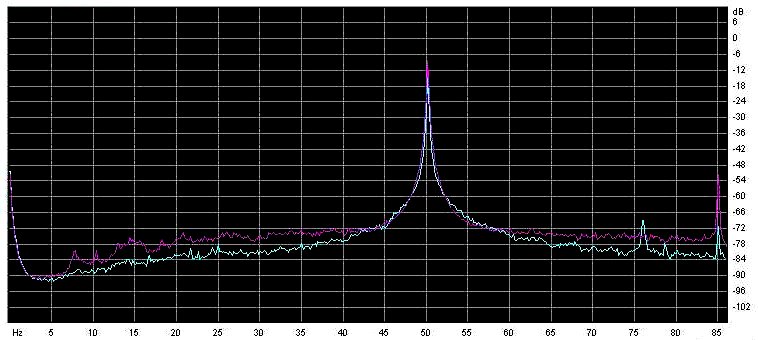 This picture has been generated testing CoolEdit '96 by Syntrillium Software. Shareware version is available at http://www.syntrillium.com . This program don't produce real time FFT, but processes wave files to make measures, spectrograms and sonograms. Violet line shows vertical electric field and light blue line refers to horizontal electric field. Schumann resonance at 7 - 14 - 21 Hz may be seen in the vertical field trace, the submarine tone at 76 Hz in horizontal field. The same is 10dB under background noise in vertical. The signal at 85 Hz comes from PC monitor.


121099-1250


---


Horizontal field, received with horizontal loop. In the high part of spectrum, weak but clear, an 82 Hz tone in binary code appears briefly. It is probably of Russian origin.
Any information on this signal (location, power, kind of modulation...) is wellcome!
---
Thanks to Väinö Lehtoranta, OH2LX, Finland. He wrote an article about ELF on SHRS magazine (in finnish language). This is his contribute, about submarine heart stations. These pictures are very interesting.

| | |
| --- | --- |
| | This picture show the scheme of transmission in ELF band: transmitter station, propagation signal and receiving tecniques in submarine in immersion. |
| | |
| --- | --- |
| | This picture, clear only in full size, show the complete communication system used in a submarine. VLF and ELF band are only a little part of totally communications directed from and to the submarines. Ground bases, aerial station and satellites are all involved. |
| | |
| --- | --- |
| | This picture report a typical installation of ELF submarine ground site, between Michigan and Wisconsin. The two installation are 148 miles (238 km) far. Radio signals are generated from the heart current between the two sites. |
---
Return to the index